But throughout his speech he put his focus on the "Cow Vigilantes" who are fraudulent and spread communal violence to achieve political favors, and thereby, the country is left at a loss of any benefit that it could rather have achieved, and the by product is 'A farcical Development'. The Prime Minister said, there are laws to protect the cows but taking law into hands is not acceptable.
In the meeting answering to the Opposition leaders on the issue, Modi said maintaining law and order was the responsibility of the State Governments, which should take strict action against perpetrators of such incidents.
Opposition leaders who attended the meeting with the PM were Congress' Ghulam Nabi Azad, NCP's Sharad Pawar, CPM's Sitaram Yechury, SP's Mulayam Singh Yadav and CPI's D Raja.
Modi also appeared to be taking a dig at RJD chief Lalu Prasad, who is facing fresh corruption charges, as he sought cooperation in fight against corruption. These parties have also planned to raise the issue during the Parliament session starting tomorrow. Both parties said their MPs were preoccupied with work.
People involved in corruption should not be saved, he said at the meeting, adding that the image of a political leader has taken a beating because of this.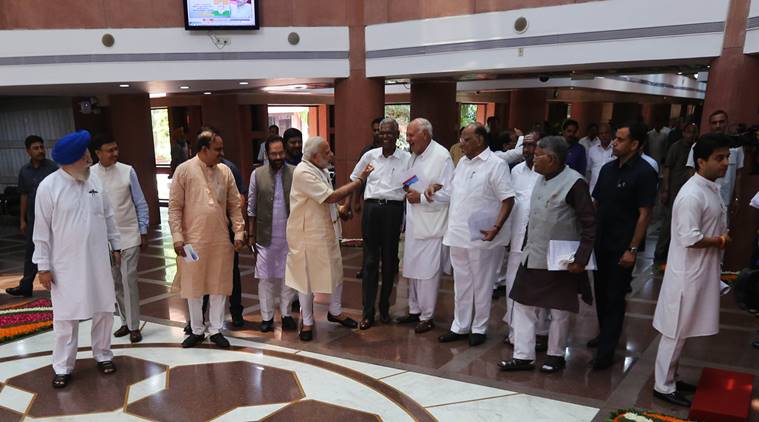 Modi urges states to curb violence by cow protection groups
Mr. Modi had last spoken against cow vigilantism on June 30 at the Sabarmati Ashram, calling violence in the name of "gau bhakti" antithetical to Mahatma Gandhi's views. Adding further, Kumar said, "Pradhan mantri ne asamajik tatvo ke khilaf kathor karyavahi ke liye rajya sarkar se maang ki hai (prime minister has asked state government to take strict action against these anti-social elements)". While a joint meeting of Opposition leaders is slated on Tuesday for putting in place their strategy for the session, other issues like the flood situation particularly in Assam and other North-Eastern States, violence over Gorkhaland, fallout of demonetisation, job losses and disinvestment of PSUs are also likely to be raised.
This is the second time that the Prime Minister has taken a tough stand on cow vigilantism.
Modi also mentioned the presidential poll to be held tomorrow and said it would have been very good had a consensus been reached on the candidate.
On GST roll-out, Kumar said that the prime minister called the reform an example of "co-operative federalism". However, the meeting was skipped by JD (U) and TMC.
Besides all party meetings convened by the Government and Lok Sabha Speaker, Leaders of ruling NDA will meet this evening to chalk out their strategy in Parliament.